As one of the top tier sponsors of Boston Calling music festival, '47 wanted to make a bold statement about the brand and connect with festival goers in a way that set it apart
_______________________________

OBJECTIVE

Establish '47's ownership of Boston by creating a meaningful activation that resonates with the Boston Calling community

_______________________________
_______________________________

How does a sports lifestyle brand connect with a music festival? Create a character who is tied directly to sport and '47, and tell his story in a bizarrely creative way. Build his world from the ground up with obsessive detail and allow guests to interact with the story and discover artifacts around his "home." Add in free giveaways like custom patches and pennants, free phone charging stations, and a place to rest and regroup with friends, and you have an activation that enhances the experience for all attendees

_______________________________
We started with the story - Barry Woodchip, a fictional bear who has worked with the D'Angelo family for years, was in charge of merchandise, and is a die hard sports fanatic. Perfect. But where does he live? How will he and his world come to life?
We needed the right team of creatives. 
'47 partnered with our friends
!ND!V!DUALS COLLECT!VE
 to bring our character to life. We had a 40x40' space in sight of the main stage, and close proximity to concessions which allowed us to simply create a hang-out space around our activation concept. 
The challenge was to create Barry's whole world - his home which included his living room, Fan Cave, and garage. Within this space we created details that added to the story and provided surprise and delight for the guests - photos of Barry with '47's founders throughout the years, custom album artwork in Barry's record collection which were based on actual Boston Calling performers and included a QR code which linked to a custom playlist curated by our team, and of course the many pieces within each space that were hand made by
!ND!V!DUALS COLLECT!VE
. 
We looked to vendors to help us create a structure. Cost, permitting/city approvals, and time proved to be a challenge as always. So we had to be creative. We purchased and refinished three 20' shipping containers, painted them black, added power, and installed track lighting. 
We wanted to incorporate our pennant and patch design/giveaway station within the space rather than slapping it on at the end. Using the idea of the "garage" we created a workshop where our teams could alternate each hour between heat pressing patches onto free hats, and then easily transition to screen printing the custom artwork onto pennants. 
The bear, the myth, the legend...Barry Woodchip in his "Cave"
As an additional creative activation, we tapped our internal designers as well as
Studio Fresh
 to create custom murals on each side of the activation space. 
The living room (left) and Fan Cave (right)
The key for surprise and delight here is the level of detail 
!ND!V!DUALS COLLECT!VE
 brings to the activation - the eagle, the stereo, the pictures and the shelves are all made out of wood by hand. This creates a storybook setting for guests to walk through and explore. Naturally, we had Jock Jams Vol 1 cranking on the stereo.
Album art printed onto 12x12" blocks and placed under the stereo in a record crate
Fan Cave (left) and garage (right)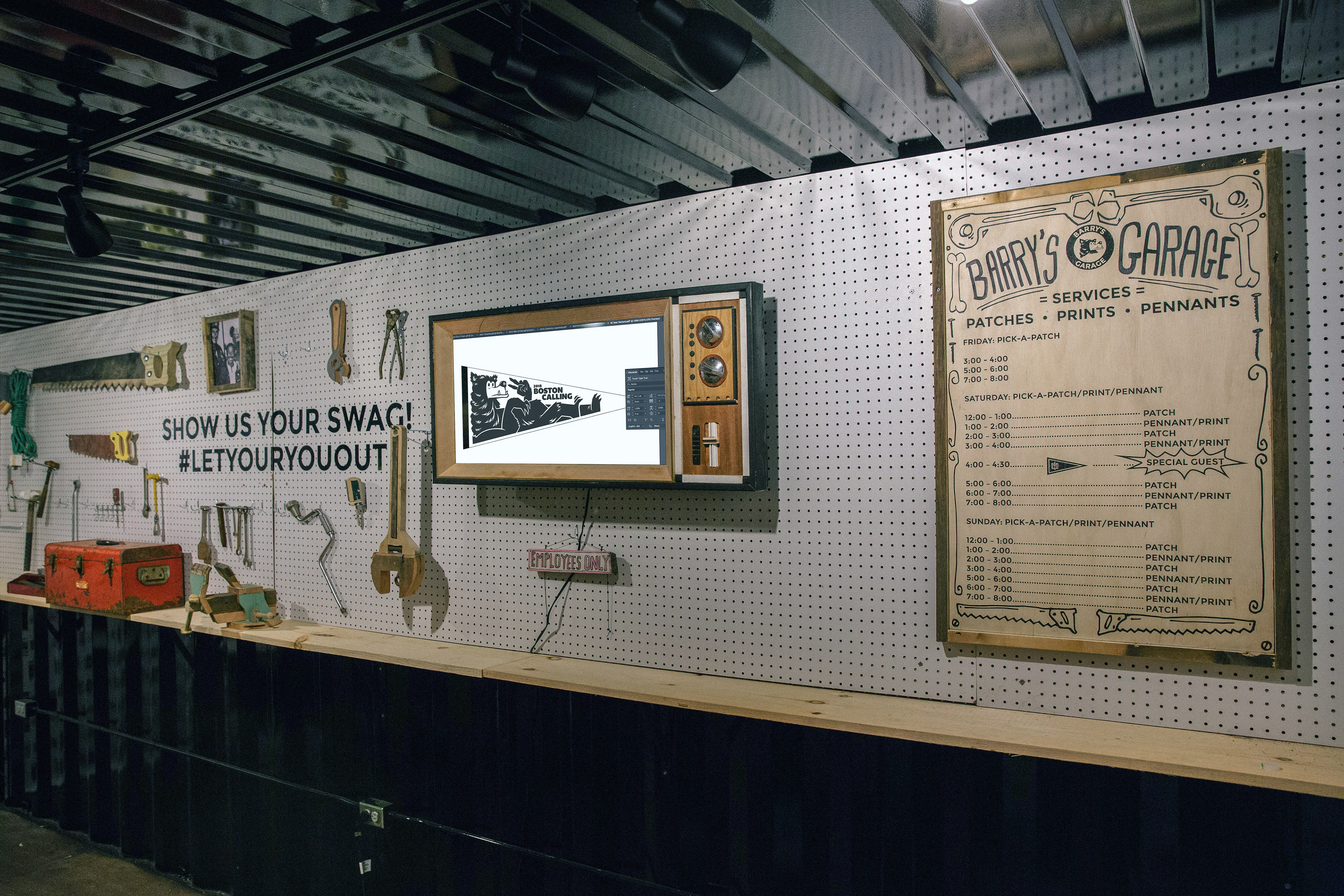 We knew there would be a short waiting period for guests as we prepared their pennants and patches. To keep them engaged, we created a video showcasing our design process. 
Heritage photos from the D'Angelos were edited to incorporate Barry and add to the story
The crew (minus a couple key people)
At the Boston Calling merchandise tent, fans were given a free '47 CLEAN UP with the purchase of another hat. They were able to bring that free hat to our booth and select one of the 21 unique patches to have pressed on. They were able to come back every other hour to collect more, and were able to press them onto other apparel pieces or accessories.